News: New book published to raise money for the Grey College Trust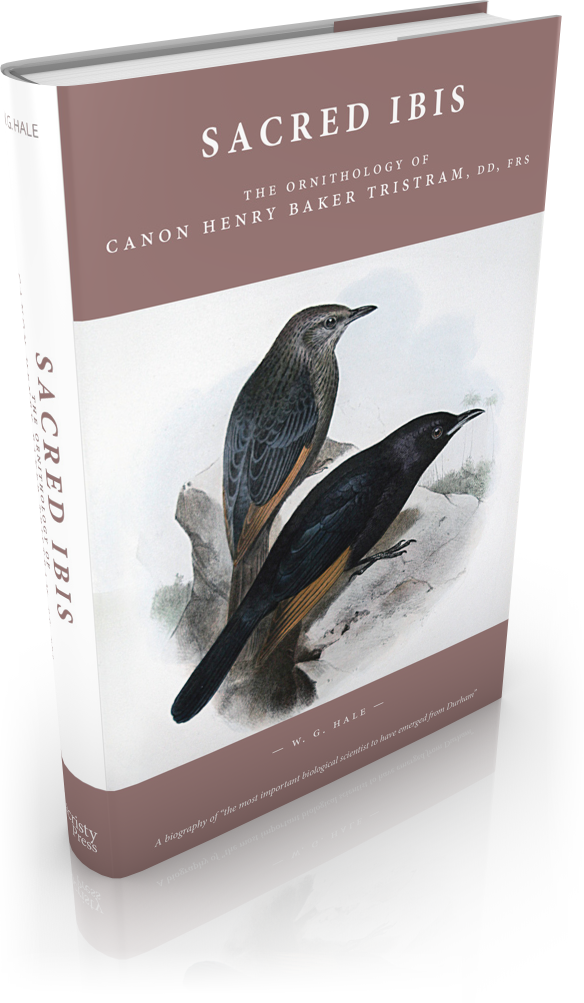 Henry Baker Tristram was a surprising and remarkable man: explorer, ornithologist, and priest. With his wild beard (for which he required special permission from his bishop) he undertook expeditions to the Sahara and Palestine at a time when doing so was even more fraught with danger than it is today. He was a canon at Durham Cathedral and corresponded with Darwin. As a founding member of the British Ornithologists' Union (BOU), he contributed regularly to its journal, Ibis, as well as other scientific journals. Tristram's nickname in the BOU was "Sacred Ibis", and there is a room named after him in St John's College.
Grey College alumnus Bill Hale (Zoology, 1959) has written Sacred Ibis, a fascinating new book documenting Tristram's ornithological exploits. Every copy sold via the publisher's website will generate a £10 donation to the Grey College Trust.
Don't miss your chance to own this beautiful book and help support the work of Grey College. Sacred Ibis (ISBN 978-1-910519-13-4) is priced at £55 and is available to order online from the publisher.
About Tristram
Tristram was a collector par excellence, acquiring extensive collections running to tens of thousands of specimens, primarily of birds, but also of plants, fish, mammals, insects, molluscs, geological samples and archaeological material. He was the first scientist to support Charles Darwin in print, and became a Fellow of the Royal Society in 1868 supported by his great friend Alfred Newton as well as Darwin.
Professor J. B. Cragg, an eminent Zoologist at Durham University, described Tristram as "the most important biological scientist to have emerged from Durham." Tristram took part in the famous "Oxford debate" between Bishop Wilberforce of Oxford and Thomas Huxley. This led to the unfortunate and incorrect assumption that Tristram subsequently gave up his support of Darwin.
This book follows Tristram's epic adventures and love for birds—from his boyhood on the moors of Northumberland to his time as a Residentiary Canon of Durham Cathedral—and the people that influenced him—from his dislike of Gladstone whom he met as a fresher in Oxford to the offer of the Bishopric of Jerusalem by Disraeli (which Tristram declined). In the book are over 80 colour plates and a reproduction of Darwin's first letter to Tristram.
About the Author
Professor W. G. Hale graduated with a degree in Zoology from Grey College in 1959, followed by a PhD in 1962 and a DSc in 1985. He is a Fellow of the Royal Society of Biology, a Chartered Biologist, and an Honorary Fellow of Grey College. He has long experience of research having served on committees of the Natural Environment Research Council, the Council for National Academic Awards, and as a member of the Scientific Advisory Committee of the Wildfowl Trust. He has supervised and examined over fifty PhD candidates.
Hale has published widely in the fields of entomology and ornithology, and recently on antiquarian bird books. He is author of several books, including the New Naturalist No. 65, Waders and the Collins/Smithsonian Dictionary of Biology. He is a Past President of Liverpool Ornithologists' Club.
About the Publisher
Sacristy Press was founded in 2011 by two Durham alumni (one from Grey College) and is based in Durham, publishing history, theology and historical fiction.
---
Return to All News
Added Wednesday 4th January 2017